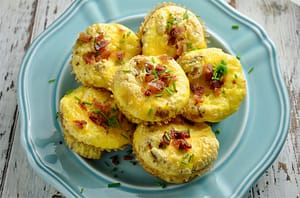 Egg muffins have been a go-to favorite in my kitchen for years, and for good reason. These savory muffins are packed with wholesome egg protein, can conveniently be made ahead of time, and have an endless array of possible add-ins. Think of it like tiny little omelets. Cute and tasty.
Using the base of 6 eggs, get crazy and add whatever meats, veggies, spices or fresh herbs that you love and have available. Think of the eggs as a blank backdrop against which you can add any array of flavors. And you don't even have to confine yourself to savory items. I've been known to add ground cinnamon and sautéed apples to egg muffins for a healthy spin on apple fritters!
Courtesy of RealHealthyRecipes.com
What you need
Serves 4
2 strips Nitrate free bacons
1/3 cup yellow onion, finely chopped
6 eggs
sea salt and black pepper
1 Tablespoon minced chive, for garnish
Instructions
1. Preheat oven to 350 degrees F. Line 6 muffin tins with paper liners or grease with coconut oil.
2. Cook the bacon in a skillet over medium high heat. Once crisp, remove from the skillet, cool and crumble. Add the sliced onion to the hot skillet and sauté for 10 minutes, until soft and caramelized.
3. In a medium bowl combine the crumbled bacon and caramelized onion. Add the 6 eggs and season with salt and pepper. Whisk until fully combined. Fill the muffin tins two-thirds of the way full.
4. Bake for 20-22 minutes, or until the egg is fully set.
Nutrition
One muffin equals:  109 calories, 7g fat, 251mg sodium, 3g carbohydrate, 3g fiber, and 9g protein