The Group Exercise classes we offer will keep you on track with exercising. Because we understand that for some, success comes in working out to a set appointment, our classes are included complimentary in our memberships. We believe everyone should have the right to take classes as a change or as an anchor to their fitness program.
We have the right class for you
BODYCOMBAT is the empowering cardio workout where you are totally unleashed. This fiercely energetic program is inspired by martial arts and draws from a wide array of disciplines such as karate, boxing, taekwondo, tai chi and muay thai. Supported by driving music and powerful role model instructors, you strike, punch, kick and kata your way through calories to superior cardio fitness
BODYJAM is the cardio workout where you are free to enjoy the sensation of dance. An addictive fusion of the latest dance styles and hottest new sounds puts the emphasis as much on having fun as breaking a sweat. Funky instructors teach you to move with attitude through this 55-minute class. So grab a friend, get front and center and get high on the feeling of dance.
BODYSTEP is the energizing step workout that makes you feel liberated and alive. Using a height-adjustable step and simple movements on, over and around the step, you get huge motivation from sing-along music and approachable instructors. Cardio blocks push fat burning systems into high gear followed by muscle conditioning tracks that shape and tone your body.
BODYFLOW is the yoga, tai chi, pilates workout that builds flexibility and strength and leaves you feeling centered and calm. Controlled breathing, concentration and a carefully structured series of stretches, moves and poses to music create a holistic workout that brings the body into a state of harmony and balance.
BODYPUMP is the original barbell class that strengthens your entire body. This 60-minute workout challenges all your major muscle groups by using the best weight-room exercises like squats, presses, lifts and curls. Great music, awesome instructors and your choice of weight inspire you to get the results you came for – and fast!
RPM is the indoor cycling workout where you ride to the rhythm of powerful music in a dedicated studio complete with special lighting. Take on the terrain with your inspiring team coach who leads the pack through hills, flats, mountain peaks, time trials, and interval training. Discover your athlete within – sweat and burn to reach your endorphin high.
View VIRTUAL Schedule
BODYATTACK – Build stamina with our sports-inspired moves and improve your coordination and agility. We combine athletic movements like running, lunging, and jumping with strength exercises such as push-ups and squats. 
CXWORX – During the 30 minute workout trained instructors guide you through correct technique as you work with resistance tubes and weight plates, as well as body weight exercises like crunches, and hovers. You will also get into some hip, butt and lower back exercises. A stronger core makes you better at all things you do. 
LESMILLS TONE – If you want the optimal mix of strength, cardio and core training this is it. The challenging mix of lunges, squats, and functional training and tubing exercises will help you burn calories and take your fitness to the next level. 
ZUMBA is a fusion of Latin and International music and dance themes that create a dynamic, exciting, and based on the principle that a workout should be fun and easy to do. The routine feature aerobic fitness interval training with a combination of fast and slow rhythms that tone and sculpt the body.
Water aerobics is offered as a class to members and is held in the pool located at 1934 Hickory, inside the Hendrick Center for Rehabilitation. Classes offer an excellent form of cardiorespiratory exercise for those seeking a low-impact way of exercising. Classes consist of a warm-up, plus stretching and strengthening exercises for participants who are at a different level of intensity in their cardiorespiratory training. These classes will exercise and challenge your body.
Participants of water aerobics exercise have seen results including increased energy, flexibility, strength and stamina, as well as a decreased level in stress and tension. Free time is also available during the day for members working on individualized programs.
View Schedule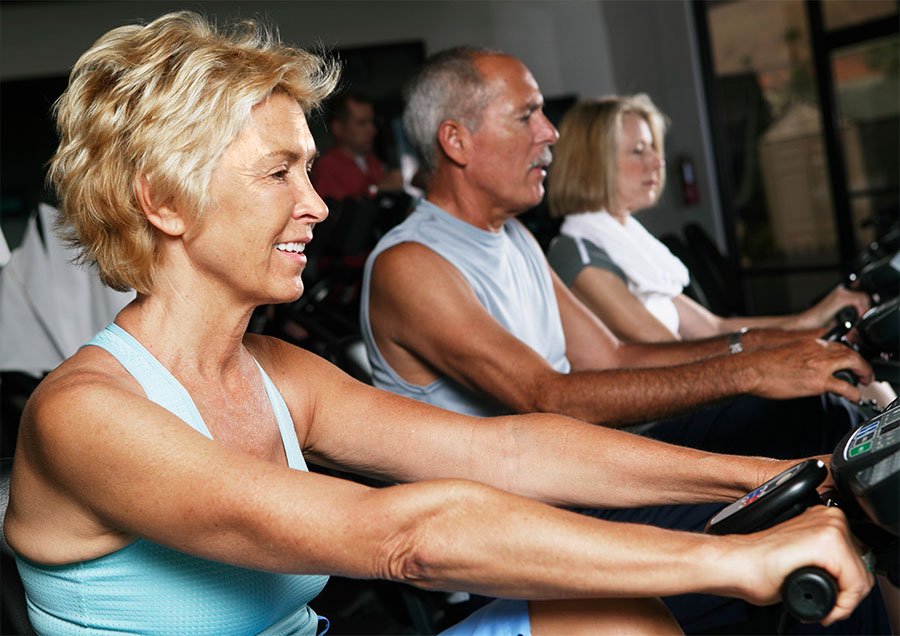 Active Living is designed for those who are 55 years or older and are seeking a lifestyle enhancement work out.  In this class, you will perform exercises that help strengthen you throughout everyday activities such as sitting, standing, reaching, twisting, climbing stairs, getting in and out of the car and more. You will be guided by a trained, certified instructor who is knowledgeable in this field.
Each class is designed to target improving the quality of life though our S.A.F.E. approach to exercise:
Strength/Speed – Having the core strength and stability to rapidly respond to both the expected and unexpected demands of everyday activities.

Agility – Being able to confidently move through various planes of motion and around objects such as side stepping, turning quickly, moving up and down steps and inclines, and balancing.

Flexibility – Having an increased range of motion in order to prevent injury from tight muscles.

Endurance – Having the cardiovascular and muscular strength to perform daily activities over an extended period of time.
Benefits of Active Living
Those who attend Active Living regularly will experience a higher fitness level, a higher quality of life, greater self-confidence and a higher sense of well-being and accomplishment.
What to bring to Active Living
Make sure you have a good pair of shoes for foot stability. Dress in comfortable clothes and bring a water bottle.
View Schedule
THE TRIP TM is a fully immersive workout experience that combines a 40-minute multi-peak cycling workout with a journey through digitally-created worlds. With its cinema-scale screen and sound system, THE TRIP takes motivation and energy output to the next level, burning serious calories.
View CYCLE CINEMA SCHEDULE
Group Exercise Testimonial
Hear what two of our members Terri and Sarah have to say about exercising in our Group Fitness Classes.
Learn More